Dave Brown wrote:
Here is my new tooth setter. It.s built on a piece of channel from a demolition. It is essentially complete except for the addition of two surplus dial indicators I recently acquired. They are not essential for the operation but I think they will be a nice touch. It sets 2 teeth at once. The lever on the right advances the blade by 3 teeth and the left lever sets the teeth. It works well and is fast.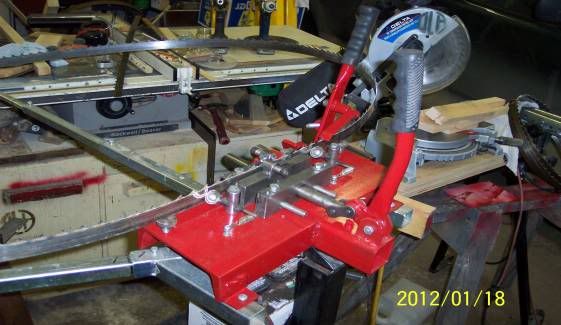 Dave
Thats a GREAT looking setup for home made. How much time ya reckon ya got in it?. Looks very professional. It will look cool when ya get them gauge's on there. If it works well You just saved a butt load of money
I never kept track of the time. I worked on it off and on over a couple of years. Actual build time is probably about thirty hours. The gages took about an hour to put on. I set the up so that they measure the set over and by removing the blade I can dial in corrections to the punches. To do this I had to make a little finger that pushes the blade to the center of the channel when it advanced. I built it to mount on the stand of my Dino sharpener. Over all I am very pleased with it.
Dave